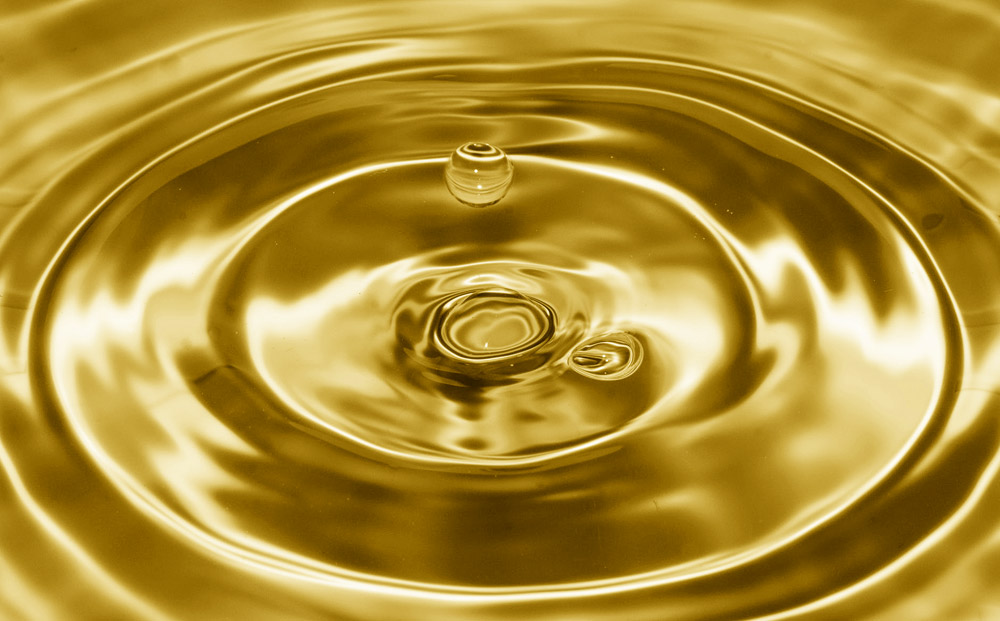 After a long year of hard work GRT is pleased to announce that will be working with Itau BBA as an advisor for RP Biocombustíveis SA with the intent to sell along with its partner Petrobras Biocombustíveis S.A. (PBio) 100% of BSBios shares, following PBio's divestment systematic. PBio will carry out the tender process and all communications should be directed to Rothschild Co.
André Barake has 35 years of experience in the financial markets. He was Executive Director of Mizuho Securities and founding partner of Advis Bancorp. He was the Head of Investment Banking responsible for Brazil for Banks such as  Bank of America, Unibanco and Nomura Securities.
André Barake was one of the founding members of Instituto Brasileiro de Governança Corporativa – IBGC. He also held Board positions in several companies, including among others Valepar S.A., the controlling vehicle of Vale S.A.
André Barake holds an MBA degree from the  Harvard Business School – HBS and a BS in accounting from the Universidade de São Paulo-USP. He was president of the Harvard Business School Alumni Group of Brasil.
Giovanni Calfat has experience in financial restructuring, mergers and acquisitions and capital raising with more than four years of dedication in these markets.
Recently conducted M&A processes in companies in various industries such as: Chemicals for water treatment, Bio-Diesel production, Sealing materials, Leaf Fertilizers, Lubricant distribution, Schools, Chemicals for the Pulp and Paper Industry, Call Centers, Hair Care & Personal Care and Environmental Management.
Giovanni holds a bachelors degree in Business Management by Insper – Instituto de Ensino e Pesquisa,  specialized in Finance.
Julio has experience in financial restructuring, mergers and acquisitions and capital raising with more than eight years of dedication in the financial market.
He worked in several positions at Banco Fator and HSBC  and recently conducted capital raising processes in several industries: such as real estate, infrastructure, logistics, food & beverage, information technology and education.
Julio has a bachelors degree in Economics by Mackenzie and several continuing education courses in finance and financial products.
Chronology of the Global Systemic Crisis
2003-2007 (five years): A Golden Age of Economic Growth all over the world, including the BIG3 (USA, Europe and Japan) and the BRICs (Brazil, Russia, India and China). U.S. Stocks: S&P 500 Oct. 2007 High
First signs of Housing Bubble in the USA: 2006.
Beginning of the Subprime Crisis in the USA: 2007.
Major Historical Fact: the Fall of Lehman Brothers in September 15, 2008. From now on, the analysis of the financial side of the Crisis has to be made considering "pre-Lehman" and "post-Lehman".
Interbank transactions practically stopped all over the world after September 15 due to a Confidence Crisis.
The economic policy response in the USA has been a disaster, with stop and go measures in the last few months.
The transition from Bush to Obama is already and will be more dramatic between now and January 20 (two more months to go).
In November 2008, the mistakes and uncertainties of USA economic policy accelerated the stock market crash as well as the global credit crunch, affecting financial and non-financial corporations severely.
Nov 20: S&P 500 plunged to its lowest level in 11 years after economic reports depicted a deepening recession and lawmakers postponed a vote on a plan to salvage the auto industry. The S&P 500 extended its plunge to almost 52% in the worst bear market since the Great Depression.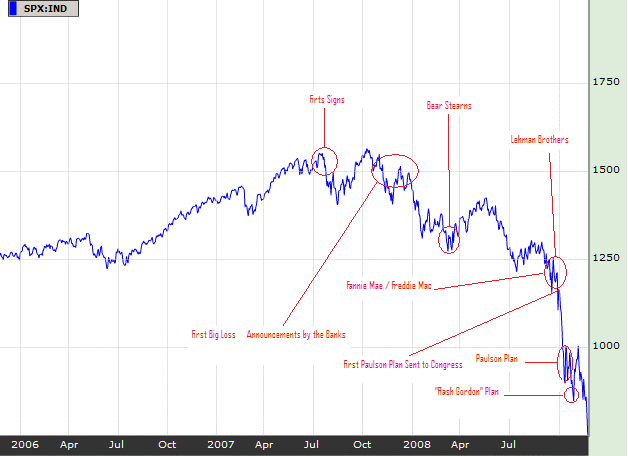 The Global Crisis is very severe
Very unpleasant news from the USA:
Total Distressed Assets (according to Brookings Institution): US$ 3 trillion
Stop-and-Go Economic Policy Decisions
Limitation of Monetary Policy: Zero Interest Rate Bound.
Limitation of Fiscal Policy: Government Spending Financed by Govt. Bonds
Major decline in Consumption due to:
– Credit higher interest costs  and minimal availability (in spite of recent "basic" interest rate reductions by the Fed)
– Wealth implications of 50% decline in stock prices
This is no "soft landing". Recession in the USA can be L-shaped or (a little better) U-shaped, but difficult to be V-shaped. After the Golden Age of 2003-2007 (five years), now we have a major worldwide recession starting 2008 and certainly not recovering in 2009.
Deflation will be a major "new" problem, which cannot be dealt with interest rates.
The U.S. economic and financial crises reinforce each other and have yet to bottom. RGEMonitor predicts a minimum 5% GDP contraction in Q4 2008 and ending at least 3 times as long and deep as the previous two recessions. The market's loss of confidence in policymakers despite aggressive policy actions will keep financial losses mounting.
Channels of Transmission from the BIG3 to Other G20 Countries
The Major Recession in BIG3 in 2009 will affect Exports of all other countries.
Moreover, Major Declines in Commodity Prices – from Oil to Sugar and Coffee – affect directly Commodity Exporters such as Brazil.
The financial channel of transmission: a "Systemic Sudden Stop" of International Capital Flows – Stressed Global Financial Markets are on the Brink, with a Flight to Quality (paradoxically: to USA Govt. bills and bonds).
As a consequence, I expect:
– Slower Economic Growth in G20 Countries.
– Devaluation of Currencies of G20 Countries (against appreciation of the US dollar and Jap.Yen).
– Conflicting Pressures on Domestic Inflation in G20 Countries (on one hand: decline of commodity prices and worldwide recession; on the other hand: currency devaluations).
The Brazilian Economic Policy Responses (I)
Brazil in 2009 will have a deceleration of economic growth, but nothing close to a recession.
Brazil in 2009 will face new inflationary pressures (devaluation of the real) using compensatory monetary policy, particularly interest rate changes (inflation targeting model).
The Brazilian balance-of-payments will show a small current account deficit in 2009, but with no major financing problems (direct investments only are sufficient to finance).
Brazil was and is prepared for the "systemic sudden stop" (3S) of external capital inflows, with a large amount of international reserves.
Brazil is the only country in LA with inflation within the target. Very successful inflation target monetary policy model. Inflation will be kept under control in Brazil in 2009.
Brazil will mitigate the expected economic growth slowdown in 2009. In contrast to the BIG3 (USA, Europe and Japan) and some other emerging market countries, Brazil will be able to make a "Soft Landing" in 2009 due to good economic policy responses (to be continued in the next slide).
The Brazilian Economic Policy Responses (II)
All this "mitigation" of the major financial and real external shocks of 2008 is due to:
– Excellent Domestic Economic Policy Fundamentals:
– From 1994 until 2007 (FHC plus Lula): good economic policy;
– In 2008: correct and rapid economic policy responses on the monetary, banking and credit side, maintaining financial stability.
– High level of international reserves acting as a cushion and protection.
– The general positive situation of Brazilian corporations, with low exposure to currency risk (cases like Aracruz and Votorantim were caused by speculation, rather than hedging) and good balance sheets.
– A Strong Banking System led mostly by local institutions.
Soft Landing
Brazil was caught by the crisis in the middle of a strong and accelerating economic growth.
Yet, local demand, after government's credit stimulus, can act as counterbalance to global deceleration and keep growth rates at 2%-3% in 2009.
China will have a crucial role: should it be successful in stimulating its rural demand and its infrastructure in 2009/2010, narrowing the gap between rural and urban economy, Brazil can resume its strong growth even if the developed world  doesn't.
Brazil will likely have a soft landing in 2009.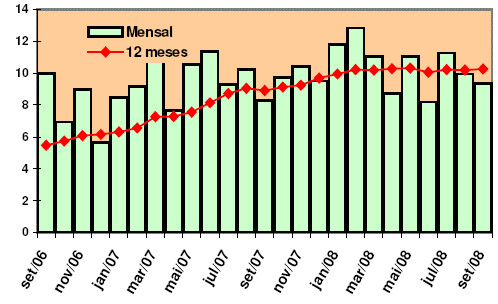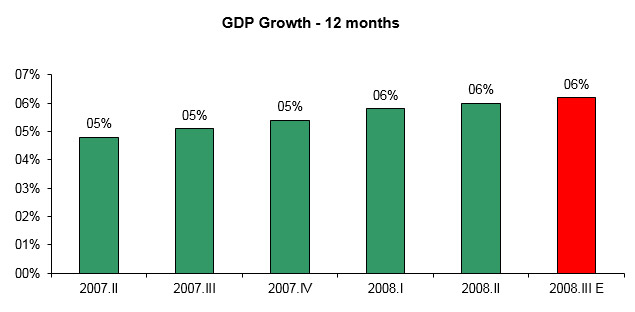 The long term relationship of our partners with diverse members of the financial community helps us in the structuring and execution of restructuring transactions, capital raising or M&A.